Report: UN warns of threat to human progress; Transient Middle Eocene Atmospheric CO2 and Temperature Variations; Climate scientists plan campaign against global warming skeptics; Inaccurate news reports misrepresent AGU climate-science initiative; climate crisis is no crisis (media confusion); ClimateGate One Year Later; Energy & Environment Hearing; Philippines: Aquino calls for lifestyle change.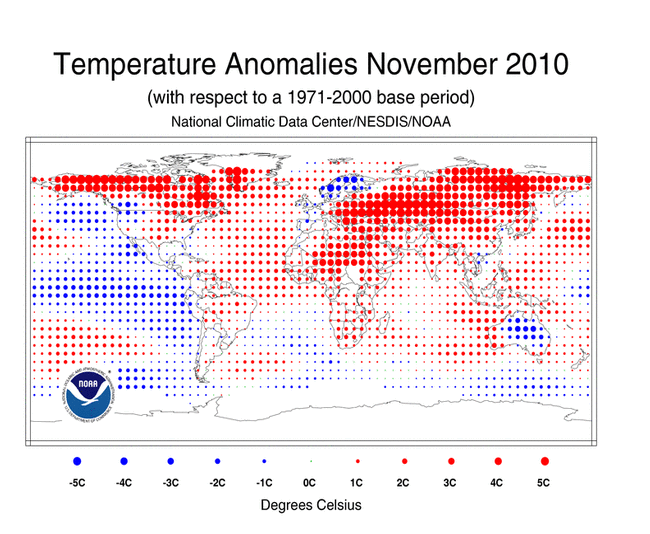 The global temperatures in November show the Northern (Arctic/Polar) Amplification Effect well, and the La Nina is clearly visible in the Pacific.
The land based high temperature anomalies are clear over Alaska, Russia and Asia as well as Northern Africa, where we can see some cold temperature anomalies over Europe and Central and Eastern Australia influenced by natural variation in the intra-annual and inter-annual climate oscillations cycles.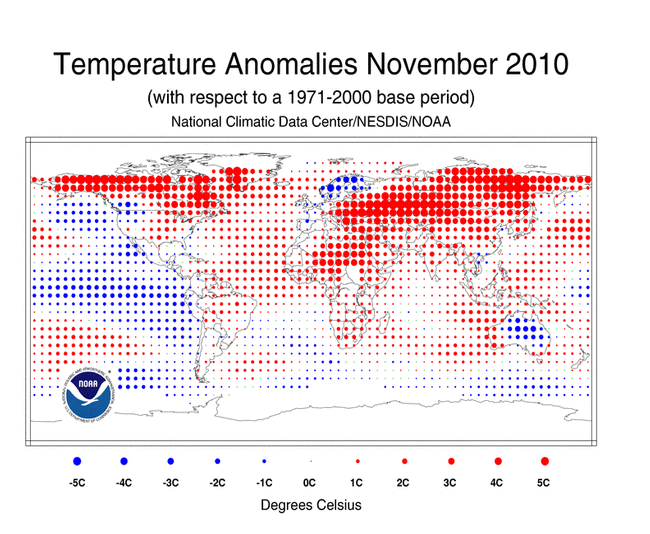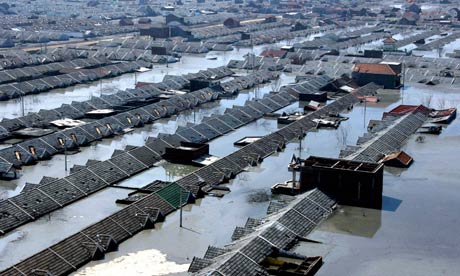 Human development report says inaction on climate change puts at risk decades of progress on education and health
Climate change may be the single factor that makes the future very different, impeding the continuing progress in human development that history would lead us to expect. While international agreements have been difficult to achieve and policy responses have been generally slow, the broad consensus is clear: climate change is happening, and it can derail human development.
Source: Guardian.co.uk, United Kingdom

Transient Middle Eocene Atmospheric CO2
 

and Temperature Variations

Science 5 November 2010:
Vol. 330. no. 6005, pp. 819 – 821
DOI: 10.1126/science.1193654

Peter K. Bijl,1,*,
 Alexander J. P. Houben,1,*,
 Stefan Schouten,2 Steven M. Bohaty,3 Appy Sluijs,1 Gert-Jan Reichart,4 Jaap S. Sinninghe Damsté,2,4 Henk Brinkhuis1
The long-term warmth of the Eocene (~56 to 34 million years ago) is commonly associated with elevated partial pressure of atmospheric carbon dioxide (pCO2). However, a direct relationship between the two has not been established for short-term climate perturbations. We reconstructed changes in both pCO2 and temperature over an episode of transient global warming called the Middle Eocene Climatic Optimum (MECO; ~40 million years ago). Organic molecular paleothermometry indicates a warming of southwest Pacific sea surface temperatures (SSTs) by 3° to 6°C. Reconstructions of pCO2 indicate a concomitant increase by a factor of 2 to 3. The marked consistency between SST and pCO2 trends during the MECO suggests that elevated pCO2 played a major role in global warming during the MECO.
Source: Science Magazine, United States

Bloomberg to promote electric taxis in cities
By MIN LEE Associated Press  Nov 6, 4:57 AM EDT
HONG KONG (AP) — City authorities are often better placed than national governments to combat climate change, New York City Mayor Michael Bloomberg said Saturday, vowing to promote the use of electric taxis as he takes over the leadership of a global coalition of major cities.
The billionaire mayor urged delegates at the C40 conference in Hong Kong to wield the power of its large collective population, which accounts for about 1 in 12 people in the world. C40 is a coalition of 40 cities. It was founded in 2005 with the aim of reducing carbon emissions. Nineteen other cities are affiliate members.
Those cities' huge car and taxi populations mean they have a huge role to play to cutting emissions, Bloomberg said. The 19 of the C40 cities where statistics were available are home to more than 20 million cars and 25 member city governments represented in the coalition have oversight of taxi fleets controlling more than 1 million cabs.
"Think of that – a million-plus autos, the most iconic vehicles in our downtowns, that we can start to work together to make more efficient and less polluting," he said.
Source: https://news.yahoo.com . . . Hong Kong Mayors Climate Conference

Climate scientists plan campaign against global warming skeptics
By Neela Banerjee, Tribune Washington Bureau  November 8, 2010
An analysis by a liberal think tank found that half of the more than 100 new Republican Congress members are skeptics on global warming. (Chicago Tribune / February 8, 2007)
John Abraham of St. Thomas University in Minnesota, who last May wrote a widely disseminated response to climate change skeptics, is also pulling together a "climate rapid response team," which includes scientists prepared to go before what they consider potentially hostile audiences on conservative talk radio and television shows.
"This group feels strongly that science and politics can't be divorced and that we need to take bold measures to not only communicate science but also to aggressively engage the denialists and politicians who attack climate science and its scientists," said Scott Mandia, professor of physical sciences at Suffolk County Community College in New York.
"We are taking the fight to them because we are … tired of taking the hits. The notion that truth will prevail is not working. The truth has been out there for the past two decades, and nothing has changed."
Source: Tribune Washington Bureau, United States

Inaccurate news reports misrepresent a climate-science initiative of the American Geophysical Union
By AGU Release No. 10–37 8 November 2010 For Immediate Release
WASHINGTON—An article appearing in the Los Angeles Times, and then picked up by media outlets far and wide, misrepresents the American Geophysical Union (AGU) and a climate science project the AGU is about to relaunch. The project, called Climate Q&A Service, aims simply to provide accurate scientific answers to questions from journalists about climate science.
"In contrast to what has been reported in the LA Times and elsewhere, there is no campaign by AGU against climate skeptics or congressional conservatives," says Christine McEntee, Executive Director and CEO of the American Geophysical Union. "AGU will continue to provide accurate scientific information on Earth and space topics to inform the general public and to support sound public policy development."
"AGU is a scientific society, not an advocacy organization," says climate scientist and AGU President Michael J. McPhaden. "The organization is committed to promoting scientific discovery and to disseminating to the scientific community, policy makers, the media, and the public, peer-reviewed scientific findings across a broad range of Earth and space sciences."
Source: American Geophysical Union, United States
Lorne Gunter: The latest climate crisis is no climate crisis
By Lorne Gunter National Post – November 9, 2010 – 10:21 am
Editors Note: This could easily get worse before it gets better. There is a strategic plan to end the debate. If anyone knows of who might fund the plan, please contact the OSS (Contact Link)
Yes-there is still ice in the Arctic. Shocking, isn't it?
Whereas reporters like Margot O'Neill are placated by such obvious attempts to paper over the flaws in climate science – so they can keep alive the alarmist storyline about how we are in danger of destroying our planet if we don't increase the size and power of governments to regulate every aspect of our daily lives – members of the public are not. Nor are scientists who have not built their reputations on their ability to paint horrifying pictures of the coming climate Armageddon.
The public is ahead of the politicians and environmental activists on this one. They are not clamouring to be lead to safety because they have seen through the thin veneer of the alarmists' logic.
Source: National Post, Vancouver, Canada

The New York Times Does a Decent Job on This Report:
As Glaciers Melt, Science Seeks Data on Rising Seas
By JUSTIN GILLIS, New York Times – Published: November 13, 2010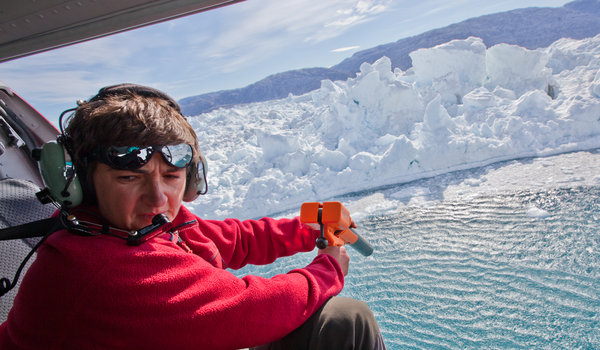 Climate scientists note that while the science of studying ice may be progressing slowly, the world's emissions of heat-trapping gases are not. They worry that the way things are going, extensive melting of land ice may become inevitable before political leaders find a way to limit the gases, and before scientists even realize such a point of no return has been passed.
"The past clearly shows that sea-level rise is getting faster and faster the warmer it gets," Dr. Rahmstorf said. "Why should that process stop? If it gets warmer, ice will melt faster."
Source: The New York Times, United States

ClimateGate – One Year Later: 'Nature Did Not Read the Hacked Emails'
By Professor Scott Mandia, Suffolk University – November 17, 2010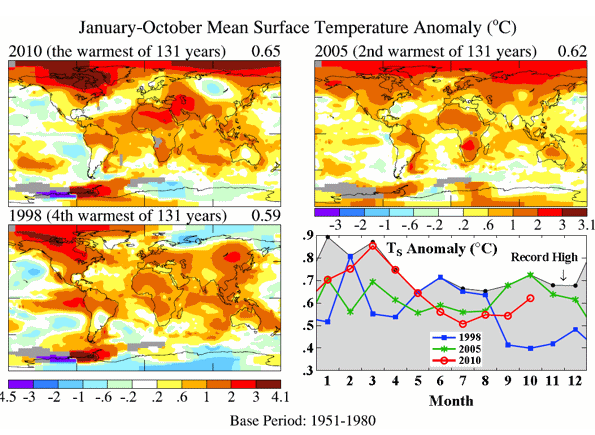 Climategate.  Exactly one year ago, on November 17, 2009, email messages and other computer files were illegally stolen from computers located at the University of East Anglia's Climatic Research Unit (CRU).  These emails and files were then leaked to the Internet in a blatant attempt to derail international climate talks at the COP-15 Copenhagen Climate Conference.  Two crimes were committed that day: 1)  Emails were stolen and 2)  Scientists were wrongly put on trial in the press and the blogosphere.
These emails were spun by skeptics of man-made global warming as somehow proving that global warming is a hoax and that scientists were controlling what science gets published.  Climategate was billed as the final nail in the coffin of anthropogenic [manmade] global warming (AGW). What has happened in the year following Climategate?
CO2 is still increasing
Climate is still warming
Ice is still melting
Severe weather increased
No journal articles have been published overturning AGW but there have been many supporting AGW
The accused scientists have been exonerated by many different investigations
Claims that the exonerations were a whitewash are simply hogwash
Climategate coverage was unfair
Source: 'Nature Did Not Read the Hacked Emails', United States

A Rational Discussion of Climate Change: the Science, the Evidence, the Response
Hearings :: Subcommittee on Energy & Environment  ::  November 17, 2010
GOP Rep. Bob Inglis Slams His Party On Climate Change
Rep. Bob Inglis (R-S.C.), an outgoing lawmaker with nothing left to lose after having his fate sealed through a primary challenge from the right earlier this year, expressed his frustrations with the GOP's trajectory toward climate change denial Wednesday in a harsh rebuke that blasted his party's hard-headed refusal to listen to scientific experts.
"And I would also suggest to my Free Enterprise colleagues — especially conservatives here — whether you think it's all a bunch of hooey, what we've talked about in this committee, the Chinese don't. And they plan on eating our lunch in this next century. They plan on innovating around these problems, and selling to us, and the rest of the world, the technology that'll lead the 21st century," Inglis told his colleagues. "So we may just press the pause button here for several years, but China is pressing the fast-forward button. And as a result, if we wake up in several years and we say, 'geez, this didn't work very well for us.'"
Source: https://www.huffingtonpost.com/2010/11/18/bob-inglis-climate-change-denial_n_785404.html
Witness Statements:
VIDEO HOME PAGE LINK (C-SPAN VIDEO)
Panel I – C-SPAN Video: www.c-spanvideo.org
PDF's of Witness Statement (Downloads):
Source: https://science.house.gov A Rational Discussion of Climate Change, United States
Source: https://gop.science.house.gov/Hearings/Detail.aspx?ID=255
Philippines: Aquino calls for lifestyle change
To reduce carbon emission, waste, and global warming
By MARVYN N. BENANING November 19, 2010, 3:50pm
MANILA, Philippines – President Aquino has called on 97 million Filipinos to close ranks and help mitigate the impact of global warming. Aquino wants to rally the people in reducing carbon emissions and pursuing a lifestyle that is energy-efficient and produces less waste.
As the country's climate czar, Aquino wants the entire country to lessen the already minimal contribution of the country to global heating, which stands at less than one percent. He issued the call as the nation observes this year's "Global Warming and Climate Change Consciousness Week" from November 19-25, 2010 with the theme: "Nagbabagong Klima Labanan, Pagkakaisa'y Kabayanihan."
Source: Manila Bulletin – Manila, Philippines

Abandoning reform, Harper uses Senate to sink climate bill
By Craig McInnes, Vancouver Sun November 19, 2010 1:09 AM
Prime Minister Stephen Harper fell back on an "end-justifies-the-means" defence this week for the sneak attack by Conservative senators who torpedoed a climate-change bill already passed by the House of Commons.
There was no sign in his response of the old reformer of high principle who used to rail against any notion that the then-Liberal dominated Senate might sink or even hold up any legislation.
As recently as three years ago, Harper argued it would be intolerable for unelected senators to defy elected members of Parliament.
It was a message that resonated with many Canadians, especially here in the West where disdain is particularly acute for the institution that many see as the ultimate symbol of patronage and pork-barrel politics.
That was before Harper abandoned his promise never to appoint a senator and stuffed the Senate full of his own yes-men and yes-women, before what used to be abhorrent became first tempting, then convenient.
Source: The Vancouver Sun – Vancouver, Canada

Elizabeth May: Demise of climate bill was undemocratic
Unelected members of the Senate killed legislation approved by MPs
By Elizabeth May, Times Colonist November 20, 2010 6:37 AM
The Stephen Harper-controlled Senate delivered a brutal blow to climate action — and democracy itself — this week when it killed the Climate Change Accountability Act.
The NDP private members bill, which passed the House of Commons last May, required five-year plans to tackle reductions in greenhouse gases based on targets derived from scientific advice.
Prime Minister Harper labelled the bill "irresponsible," and claimed it threatened "millions" of Canadian jobs.
The bill, however, did not dictate specific polices. It was up to the government to choose how the targets were met. The facts do not support the claim that it is impossible to meet targets without losing millions of jobs.
Sweden has reduced emissions to eight per cent below 1990 levels while growing its economy by 44 per cent over the same time period.
Source: Times Colonist – Vancouver, Canada
State of the Climate Global Analysis October 2010
October 2010 Selected Climate
Anomalies and Events Map
---
Global Highlights
The combined global land and ocean surface temperature for October 2010 was 0.54°C (0.97°F) above the 20th

 

century average of 14.0°C (57.1°F) and was the eighth warmest on record. October 2003 is the warmest October on record.
The October worldwide land surface temperature was 0.91°C (1.64°F) above the 20th

 

century average of 9.3°C (48.7°F)—the sixth warmest October on record.
The October worldwide ocean surface temperature was 0.40°C (0.72°F) above the 20th

 

century average of 15.9°C (60.6°F) and was the tenth warmest October on record.
For January–October 2010, the global combined land and ocean surface temperature was 0.63°C (1.13°F) above the 20th

 

century average of 14.1°C (57.4°F) and tied with 1998 as the warmest January–October period on record.
The global average land surface temperature for the period January–October was the second warmest on record, behind 2007.
The global average ocean surface temperature for the period January–October tied with 2003 as the second warmest on record, behind 1998.
Source: https://www.ncdc.noaa.gov/sotc/?report=global&year=2010&month=10
Study: Weak World Economy Cuts Carbon Pollution
by The Associated Press November 21, 2010
Here's one plus from the global economic recession: Carbon dioxide pollution last year dropped for the first time in a decade. But it didn't last, and it wasn't as big a drop as expected.
Burning fossil fuels to power factories, cars and airplanes spews out greenhouse gases that warm the world. But during the economic downturn, some factories shut down and people didn't drive or fly as much. The helped drop emissions about 1.3 percent from 2008 to 2009, according to a study published Sunday in the journal Nature Geoscience.
There's been a close link between gross domestic product and pollution in recent decades, said study lead author Pierre Friedlingstein of the University of Exeter in England. "The good part of the crisis is that it reduces emissions."
In the United States, the Energy Department said that emissions dropped 7 percent in 2009 because of three equal factors: the slowing economy, slightly better energy efficiency and cleaner energy.
Worldwide, it was mostly a matter of the economy, Friedlingstein said. In 2009, the world spewed nearly 34 billion tons (about 31 billion metric tons) of carbon dioxide. That's a drop of 453 million tons from the previous year   what the U.S. emits in about 26 days.
Source: The Associated Press
Climate Science Rapid Response Team (CSRRT)
by The Climate Science Rapid Response Team (CSRRT), Nov. 22, 2010
The Climate Science Rapid Response Team (CSRRT) has assembled a group of leading scientists with expertise in virtually all areas of climate science to improve communication on the issue of climate change by providing rapid, high-quality information to media and government.
The coordinating team includes: Dr. John Abraham, Dr. Ray Weymann, and Prof. Scott Mandia. The CSRRT was established to reduce the gap between what the science shows and what the public understands about climate science.
The Climate Science Rapid Response Team
https://www.climaterapidresponse.org/
World Bank Lauds China Green Energy Moves, Points to Inefficiencies
By SIMON HALL – WALL STREET JOURNAL – NOVEMBER 23, 2010, 3:24 A.M. ET
BEIJING—China is making good progress in meeting targets to get 15% of its energy from non-fossil fuels by 2020, but it needs to improve and expand hydropower generation and deal with high levels of inefficiency in its wind-power sector, the World Bank said Tuesday.
The bank said in a report that China should improve interprovincial trade in renewable energy and better promote green electricity schemes.
"China has achieved remarkable progress in developing renewable energy during the last three decades," Ede Ijjasz, World Bank China Sector Manager for Sustainable Development, said in a statement accompanying the report.
Source: The Wall Street Journal
Time to Take Action on Climate Communication
By Thomas E. Bowman, Edward Maibach, Michael E. Mann, Richard C. J. Somerville, Barry J. Seltser,  Baruch Fischhoff, Stephen M. Gardiner, Robert J. Gould, Anthony Leiserowitz, Gary Yohe – Nov. 23, 2010
A new paper published in Science outlines a proposal to increase support for Climate Communications. The paper outlines the need for action and the delays that have occurred.
The initiative is a broad and sweeping effort to increase participation in climate communications from the climate science community, funding organizations, and related disciplines including economic and social.
it further points out that informed policy decisions based on science and all relevant concerns should be the basis for guiding related policy. The inertia of climate change requires meaningful action now and delays are nearly certain to lock in future change to to the lag time of warming caused by increased greenhouse gas concentrations.
Source: https://www.climateengage.org/