NCDC Announces Warmest Year on Record for Contiguous U.S.; The Warm Globally, Freeze Locally Effect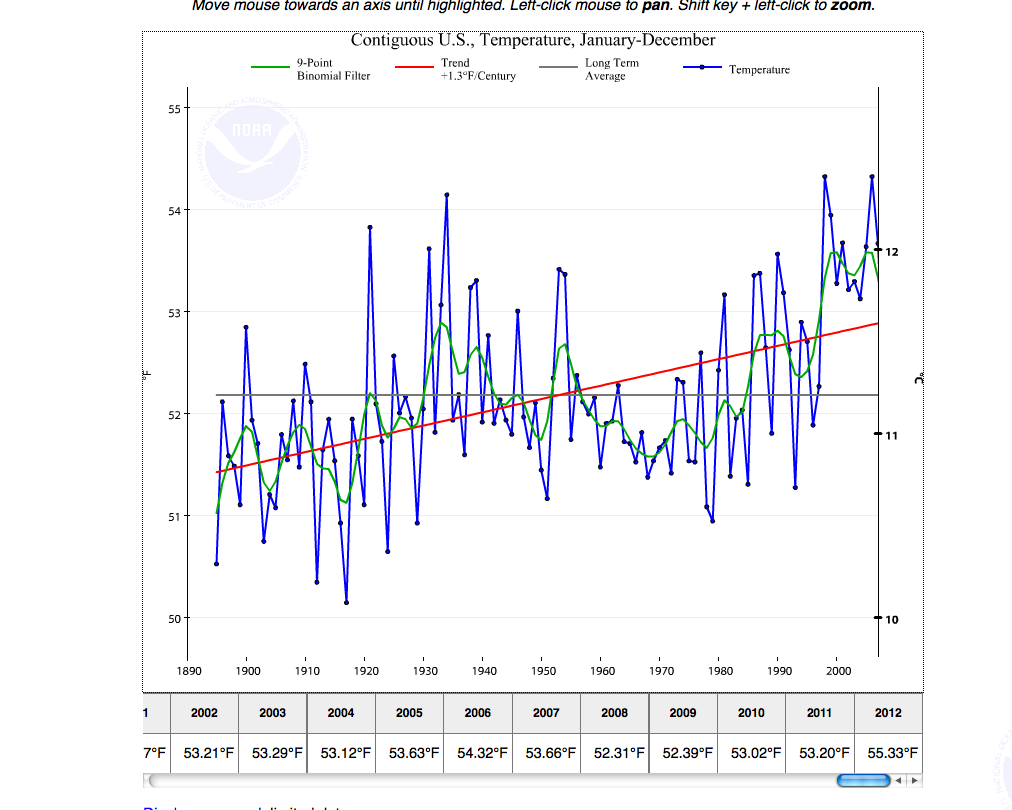 NCDC Announces Warmest Year on Record for Contiguous U.S.
Difference from average annual temperature in 2012 compared to the 1981–2010 average. Map by NOAA climate.gov team. Large versions of annual and monthly maps are available for reuse.
According to NOAA scientists, the average temperature for the contiguous U.S. for 2012 was 55.3°F, which was 3.2°F above the 20th century average and 1.0°F above the previous record from 1998. The year consisted of the fourth warmest winter, a record warm spring, the second warmest summer, and a warmer-than-average autumn. Although the last four months of 2012 did not bring the same unusual warmth as the first 8 months of the year, the September through December temperatures were warm enough for 2012 to remain the record warmest year, by a wide margin.
The average precipitation total for the contiguous U.S. for 2012 was 26.57 inches, 2.57 inches below average, and the 15th driest year on record for the nation.
The U.S. Climate Extremes Index indicated that 2012 was the second most extreme year on record for the nation. The index, which evaluates extremes in temperature and precipitation, as well as landfalling tropical cyclones, was nearly twice the average value and second only to 1998.
Source: https://www.ncdc.noaa.gov/news/ncdc-announces-warmest-year-record-contiguous-us
The Warm Globally, Freeze Locally Effect
Many people make the mistake of thinking that a cold weather spell means that global warming has stopped. Nope. It's just weather happening inside a changing climate. Winter will still happen and there will be cold days, but data indicate there are clearly more warm records being broken than cold records.
It is a mistake to claim that just because winter still happens and there are cold days that global warming is not happening. As illustrated below, for the day, January 15th, 2012, warm anomalies occur as do cold anomalies. The trends indicate a continuation of warm records outpacing cold records. A single day or period does not make for the global trend. Current global warming is caused by increased radiative forcing, mixed with natural cycle influences on relevant time scales.
The interesting point however is that warmer air in the Arctic region is possibly if not likely the impetus to the cold spells that seem to be occurring with increased intensity. Warm air in the Arctic expands and may be the reason that during certain periods, some regions are experiencing cold air masses that are anomalously cold.
Temperature and Temperature Anomalies Jan. 15, 2012